2006 a busy year at the Kuttab residence in Amman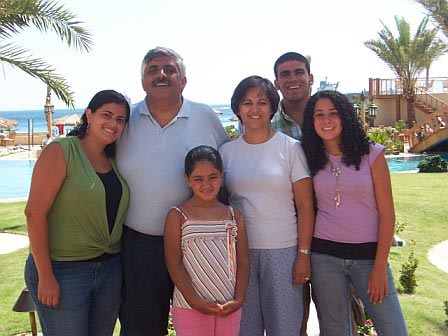 "This was probably the busiest year that our home has experienced since we moved into it seven years ago." This is what Salam said referring to the many visitors we had over the spring, summer, fall and winter of 2006. We were first blessed with the visit of Daoud's mother, Frosina who came from Philadelphia early May to spend some time with us, time that is always very much enjoyed and cherished. Salam particularly enjoys the presence of our senior parents in our home and believes that it brings with it a great blessing. We thoroughly enjoyed having Daoud's sister Lydia and husband Brice Brenneman along with their boys Jonathan Daoud, Jamil Daniel and Joseph Samuel with us last July. Daoud's younger sister Grace El Yateem and her children Rowan, Jannette, Naim and Isabel also spent July with us and were joined by their father Khader in August for what was supposed to be an all family trip to Palestine. But the Israelis denied entry to Grace and the children, and we enjoyed Grace and Isabel for August while our son Bishara succeeded in escorting the rest of the children to spend time with their relatives in Beit Jala.

The return of Grace was in part due to the hostilities that were taking place on the northern front between Israel and Hizbullah. Daoud's blogs which were carried by the Washington Post and the NY Times recorded the story of Grace's entry denial.

Salam would not have been able to handle this summer if she had not resigned her Arab Bank job. She spent 23.5 years working for Arab Bank and finally she decided to make a turn in order to give more time to the family and to herself. Her wish did not really come true when Daoud asked her to help him with some management work at AmmanNet. The fall of 2006 also witnessed yet another family member leaving us to get his higher education. Before leaving for the States, Bishara surprised all of us with the high quality of a CD he produced. With financial help from his dad, Uncle Jonathan and his cousin Mano's father Musa, and using the AmmanNet studios, his group Silver Degree produced their first CD 'Second Chance.' Their new web site Silver Degree provides some sample songs and methods to order a CD; we highly encourage you to visit their site, and to buy the CD. Bishara has sent the following entry to this family newsletter: "In July 2006 I decided to go to a fundamentalist University in Florida named Pensacola but fortunately I met one of the professors of a university called North Park University and decided to go there instead and now I'm in love with the school, and in love with Chicago. After I left Jordan I came straight to Chicago where I got a chance to meet a lot of diverse people from Austria, Sweden, Russia, Mexico, Columbia, and of course America. And this helped me a lot in learning about what's going on in the rest of the world, and what they think about our part of the world. In Christmas I went to Philly, I got the chance to meet a lot of Tata's (grandma Frosina) side of the family that I never met before , and that I had a lot of fun, then I worked with my uncle Sam in Philadelphia for a whole month and got really interested in real estate business, so we'll see where that's going to take me. And finally I'm back in school looking forward for the second semester to be as awesome as the first one".

Believe it or not, our oldest daughter Tamara is in her senior year at Bluffton University in Ohio. Below is her entry: lots of things have happened in my life this past year, well this past May I finished my junior year of college, which in itself was full of amazing days, and people. In May I traveled to Palestine and Israel with a group of 30 people from my school, I learned so much about my beloved country, and so did my classmates. The summer was filled with joy with friends as well as fun with my aunts and their families from the States; my best memory was my time with them at the water park in Jordan, and Dead Sea, loads of fun. Another fun time was the vacation with mom, dad and the children, aunty grace and Isabel came along as well. We went to Aqaba, the best time was when we went on a boat and swam in the sea, as well as eating at the best sea food place with mom ordering the food,…yummy. I also got to do some work in Jordan for the first time with the push of dad and mom, I worked with Jordan Pioneers , and got to translate a couple of scripts from Arabic to English for the Sesame Street's Jordanian series.
Tania changed schools this year leaving the Baptist School and joining Abdel Hamid Sharaf School which focuses on the American SAT curriculum. Like others her age, she is going through the exciting, challenging and also difficult teen years. She turned 16 this year and has a huge sweet sixteen birthday party at our home.]

Dina thoroughly enjoyed the summer with all her cousins from the States. She was a flower girl at the wedding of her teacher Leen Zreiqat. She is finally a good swimmer thanks to two consecutive swimming courses at her Amman Academy School. Also her dancing abilities are increasing due to continuous ballet classes.

Our visitors were not limited to family. Our home in Amman's Rabbia was blessed with the visit of Dr. Ravi Zacharias, his wife Margie, and members of his team who visited Jordan as part of an international tour. The dinner discussions with this leading Christian philosopher were very useful sharing of ideas and experiences in both directions.

2007 is full of surprises and challenges. Daoud continues to be busy commuting between Ramallah and Amman as well as his many international conferences. Maybe this year he will be able to slow down and carry out his dream of writing a book or two. Our family will be spending the fall of 2007 in one location. Daoud has won a journalism professorship at Princeton University. He will be teaching the fall term in the topic of New Media in the Arab world. We are sure this will be a fascinating time for him and our family will be able to spend quality time together.
We wish you all a happy, peaceful and year.

Daoud, Salam, Tamara, Bishara, Tania and Dina KUTTAB
For more photos see our album below