The annual Daoud Kuttab family newsletter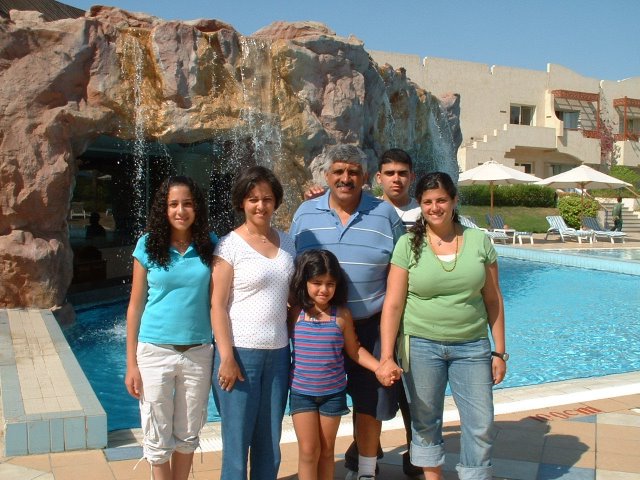 We were about to send our annual newsletter when we received the unexpected news of the passing away of George Kuttab, father, grandfather and special friend to our children, our in-laws, and many friends in Jordan, Palestine and in the US.
Salam and Daoud along with Jonathan took the first available flight to the States to attend the Philadelphia funeral. Tamara who had driven along with Yasmine (Jonathan's daughter) picked us up from the airport and the two cousins were extremely helpful in picking up people and preparing the brochure that was distributed during the well attended funeral. The passing away of George was a peaceful event. Two days earlier he had preached at a nearby Chinese Church and on the 24th of January, and as usual on a weekday, George went to the nearby Senior Citizen's Center where he works as a volunteer. He told someone he felt tired, but he continued working and when he went out to send the mail and must have tried to rest at a bench he passed to Glory. Later at his funeral one of seven pastors attending jokingly said that George never walked, he ran and it seems when he was called to his Lord, he went to heaven running. The funeral attended by nearly five hundred people was more a celebration of his life. (see brochure). Family and friends, people who were touched by George came to be with his family to say goodbye to a believer, a preacher, a teacher and an active man who lived every day of his 84 years with energy and excitement.
After spending a week with the family we returned to Amman where we spent two days receiving condolenses from friends who knew George. Daoud and Jonathan traveled to Palestine and on Sunday the 5th of February the Bethlehem Bible College held a service and more than 100 people attended and paid their respects.
George and Frocina had spent a special vacation with us this past summer. They lived with us some quiet and some more eventful days which we will hold dearly in our memories.
For us, this past year has been an eventful year in which we have all grown and learned a lot of things…mainly to rely on God in the midst of danger…. As many of you have heard dangers in 2005 hit us very close to home. We were having the best of time this summer at the Egyptian resort of Sharm El Sheikh when trouble occurred. Not only was Tamara with us but we also were happy to have succeeded in convincing all four grandparents to join us for the vacation on the Red Sea. Just an hour before the Egyptian Red Sea bombings Bishara carrying asleep Dina along with Salam's father Odeh Madanat were in the same taxi stand where one of the bombings occurred. All slept through the bombings only to be awakened by a 3am call from Salam's brother Labib in Jerusalem checking on our safety. (for more see Daoud's blog http://www.daoudkuttab.com/?blog=Blogs&archive=2005-07 )
The bombings on the 9th of November (9/11) were a bit too close to home. One of the bombings took place in the Days Inn Hotel not far from our home in Al Rabiyyeh neighborhood. The two other attacks occurred at the Radisson SAS Hotel and the Hyatt Hotels. Not only does Daoud spend some time in the lobby of these two hotels, but they are located next to his radio station AmmanNet. The radio station which had just started broadcasting on 92.4 FM in the Jordanian capital was quickly converted into a major source of local information as the local population felt violated and needed to express their opposition and their unity as people and citizens of Jordan.
For us the biggest terror was the way these attacks affected our young ones. Dina (now 6) in particular was quite upset about the attacks because, aware of the turmoil happening around the world and in particular in neighboring countries, she prays every night for the security and safety of our country. (Read more on Daoud's blog under the title how you tell a six year old. http://www.daoudkuttab.com/?blog=Blogs&archive=2005-11-10
Of course Dina now in first grade at the Amman Academy has been growing by leaps and bounds. She can now read rather well in both English and Arabic. Dina is also enjoying her ballet classes as well as spending time with her in town cousins Loai, Maha and Sarah.
This summer witnessed the baptism of both Tania and Bishara at the east bank side of the Jordan River. Tania was baptized by Salam's father Reverend Odeh Madanat and Bishara was baptized by Daoud's father Reverend George Kuttab.
Tania now 15 is a hard working student, (at least she needs to be) at the Amman Baptist School. This year she has to take the first leg in the IGCSE British exams which are not easy and require a lot of study time especially with Tania's many other activities and interests Our Tania is becoming quite a hot number and she knows it. She is always keen on dressing well, spending a bit too much time fixing herself up even for the most simple visit.
Bishara, on the other hand is not paying much to what he looks like unless he has to be filmed for the cover of his upcoming album. Silver Degree, the Christian rap group he and his cousin in Palestine Manuel Abu Ali set up is about to release its first CD with help from musical composer and guitarist Emad Salsa. You can hear some of his new songs on www.silverdegree.com Bishara has recently become a part time staff at AmmanNet which has done a lot for his self confidence. He is working behind the mixer and is editing various programs as well. In his final year in the Freres High School, Bishara has been busy looking for next year's university. He is not very much interested in a small liberal arts college but prefers some big school. He seems interested in attending one of the SUNY New York state universities but has not yet made up his mind. He wants to study business and has special interest in studying film directing. Daoud and Salam are praying for God's guidance for the right school for Bishara, a place where he would develop in knowledge and character in a way that pleases God.
Tamara now a junior at Bluffton University has also been spending time in the state of New York, mostly at her uncle Danny's store in Brooklyn. She has proven to be a reliable and hard worker to help cover for her uncle whenever she was on vacation allowing uncle Danny and Rania and George some free time. In Bluffton Tamara is now a resident assistant (RA) which allows her to use her social skills to keep peace on the university dorm. Tamara spent this 2005 Christmas and New Year's in Brooklyn (New Year's in the Big Apple) while her uncle Danny came to Jordan for the holidays. As the family photo archive person, she has compiled some of the important family photos of the year and they are all available below.
Salam is active in many fields both at work and home. Salam spent a few days early in 2006 in a Christian apologetics workshop held by Ravi Zackaria in Dubai.
Daoud is still running around too much. In addition to the TV station in Ramallah www.alquds-tv.org , the Radio station in Amman www.ammannet.net , he and others have set up ARIJ (Arab Reporters for Investigative Journalism) For more see www.arij.net. No need to go into details here because there is too much about him on his regular blog www.daoudkuttab.com/blog
This has been a glimpse of our lives in the past year. Please feel free to contact us and in all cases we hope that this will help you consider us in your thoughts and prayers.
Daoud, Salam, Tamara, Bishara, Tania, and Dina KUTTAB
Amman in February 2006