The annual Daoud Kuttab family newsletter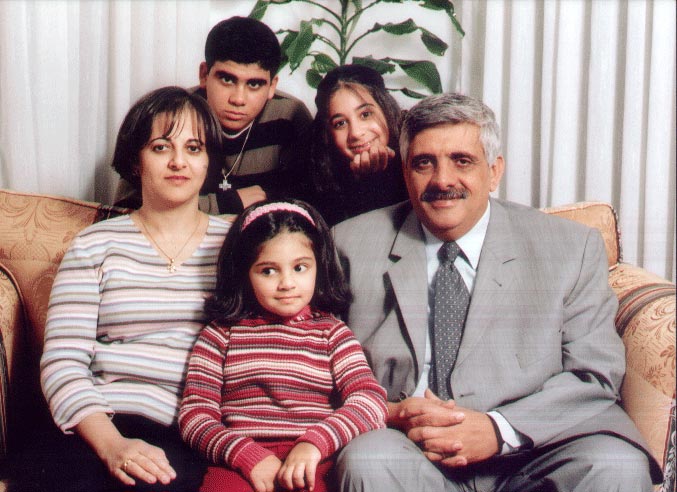 We finally did it. Although it was only done in the summer, we finally got all the members of our family in one photograph which you can see on the right (click on the hyperlink or the photo to enlarge all photos). Tamara, our oldest daughter joined us for a short vacation at the newly opened Marriott Hotel on the Jordanian side of the Dead Sea. This came at the end of her busy summer break before going back to the States to start her freshman year at Bluftton College in Ohio. Her holiday was spent at youth camps (both as counselor and camper) and working at our family restaurant during our chef's month long vacation. Her siblings and her friends also helped out. We can say that Tamara did a great job showing a great sense of responsibility and commitment as well as good public relations and marketing skills.
Tamara was not

the only person traveling. Later in the summer of 2003 Salam joined her best friend Hoda Zureikat at the wedding of her son Daniel in Florida. When she returned from the States, Salam and Daoud went on a special four day vacation on the Mediterranean shores of Limasol, Cyprus. If you compare the two famil

y pictures you can see the effects of the Atkins diet on Daoud who has lost more than 10 kilos since the photos on the Dead Sea were taken.
While at the Dead Sea, Dina overcame her fear of water and enjoyed swimming with daddy at the Marriottís pool.

Now she feels more at ease in her school swimming classes at Amman Academy. She is now

in KG 1 and keeps bragging that she is the most clever student of her class, a claim that her teacher seems to agree to by nicknaming her "Little Miss Brainy.Ē
Tania now the oldest daughter at home is starting to blossom as a beautiful, although a little spoiled kid who en

joys shopping and getting dressed up. She is picking up a little where her oldest sister Tamara left off, baking

chocolate chip cookies for church and school. Her short attempt at playing volleyball didnít succeed and now she wants to get into playing the flute.
Bishara has been growing in many ways, both physically and spiritually. The dye on his hair during the summer has since gone and his hair color is back to its original black. He is as tall as his dad, his foot size is almost the same and has started to shave. His interest and abilities in playing the guitar have caught t

he attention of youth leaders at both the

Baptist Church and Alliance, both of whom are giving him opportunities to play music with other kids at the youth groups. His artistic interests seem sharpest in his creative pursuits of film making. He has used a small digital camera and his dadís lap top (plus using his family members as actors) to experiment by producing short videos.)
Tamara continues to be missed by all of us despite her regular appearances on MSN messenger and with her numerous SMS messages using her newly purchased cell phone. She seems to really enjoy college

life with her roommate Sarah Hodges and her newly purchased guitar. So far her college grades are acceptable and she has wasted no time or opportunity for family events including a strong

presence in the wedding of her cousin Abe in California, thanksgiving and Christmas with her aunts, uncle and grandparents in Philadelphia as well as the year end Urbana Youth Convention at the University of Illinois.
Salamís career at the Arab Bank seems to be growing against her own preferences. Her increasing responsibilities as the manager of the Human Resources development department has meant that she has to spend long working days

and many weekends trapped within the four walls of the bankís Shmeisani headquarters. She did manage though to take some trips with Daoud including a trip to Leipzig Germany, the Hague in Holland and Austriaís Vienna where she met the Austrian foreign minister. Next stop in 2004 Korea, Shanghai in South east Asia. Salam did lose her eye glasses this year which became useless after a lazik surgery on her eyes.

The trip to the former East German city of Leipzig was in honor of the press prize in which Daoud shared the first prize of the Leipzig Media Institute for Press Freedom. Daoudís travels between the media Institute

in Ramallah and Amman were intensified this year as he was working hard on the Sesame Stories production which went to air in the fall of 2003. It is unclear how Daoudís travel schedule will develop in 2004. Much will depend on the possibility of his work in AmmanNet expanding radically with the possibility of a new FM radio station in Amman and Aqaba.
Daoudís parents, also spent the latter part of the summer with us. While in Amman, they all celebrated with us

God's protection of Daoud's brother Jonathan from the attack on the UN headquarters in Baghdad. He had gone on a UN mission to survey the human rights situation and left the building one day before it was blown up. Daoud's dad

really enjoyed being with grandchildren including his story telling time with Dina and young George, newborn son of Daoud's youngest brother Danny and Rania who were on a summer visit to the Middle East.
This summer and fall witnessed an interesting event with the special role that Daoud had in arranging the visits

by American movie star Richard Gere to Palestine and Jordan. Daoud had a chance to meet Queen Rania

when he organized the visit of Gere to her office. During the visit to Jordan, Salam, Bishara and Tania (along with Jonathan and his kids) had a chance to meet Gere in Amman and Jarash.